Please wait...
We can make a better world by making better water! This exclusive bottle is perfect for drinking better tasting water on-the-go, reducing the need for bottled water.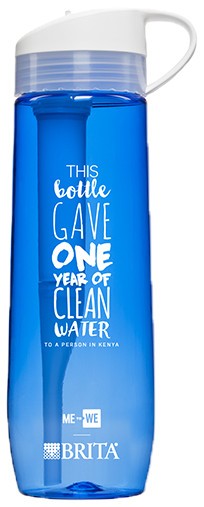 Brita X ME to WE Water Bottle
The Brita® Statement bottle comes with a firm exterior and easy-sip straw and filter to allow for easy drinking and portability.

700 mL portable bottle with a replaceable water filter. NSF certified to
reduce Chlorine (taste and odour) and particulate (Class VI).*

Just ONE Brita® Bottle filter can replace up to 300 plastic water bottles.**
BPA free and dishwasher safe.***
*Reduces Chlorine (taste and odour) and sediment. Substances reduced may not be
in all users' water.
** Standard 500 mL bottles
*** Top Shelf Only
This bottle is on its way! Your order will ship by March 31st.